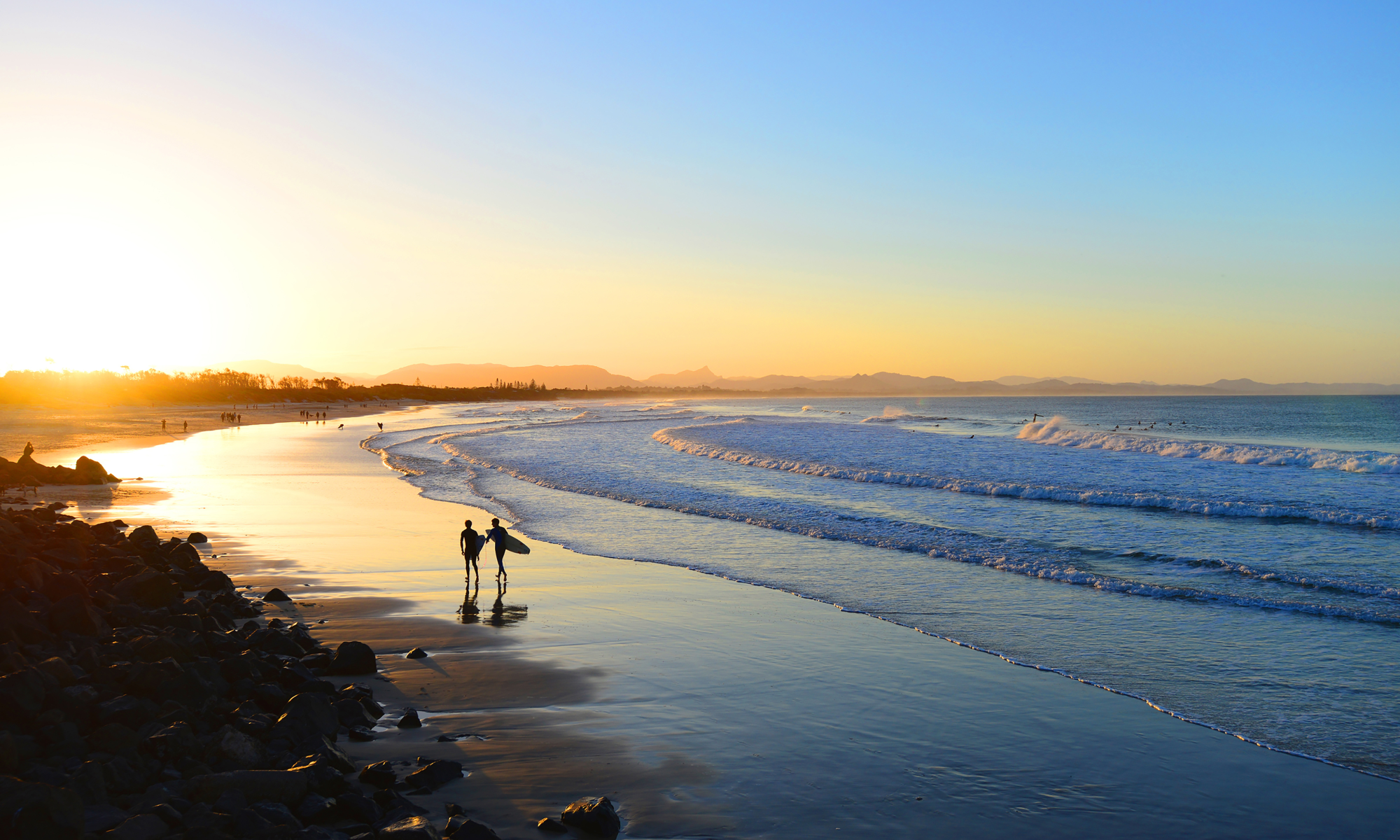 Stroll With Us Through Byron Bay
Unplugged is proud to be a lifestyle brand located in the heart of Byron and we love strolling around the town in style. Follow our top picks on what to see and do in our beautiful town and how to dress for each location. Explore Byron Bay with us and discover some of our favourite spots, best cafes and activities in the town we are lucky to call home. 
Start the Day at Folk Cafe
A perfect setting to begin the day. Folk Byron Bay is all about good food, lush atmosphere, community and swinging tunes. All products are made in house with a commitment to vegetarian and plant based eating. We appreciate the way Folk cares about your health and the health of the environment. This is a hub for creatives and artists and our tip is to dress in relaxed denim attire from Scotch & Soda. Discover our High rise skinny jeans and our Denim Trucker Jacket.
Kayak with Dolphins
Take in some of the best sights the east coast has to offer. Learn about the local history, dolphins, whales and turtles and see the most Easterly Point of the Australian mainland as you enjoy your guided kayaking tour in a two person sea kayak. Get up close and personal with friendly dolphins and discover how inquisitive they can be, spot sea turtles and marvel at the size of the majestic humpback whales as they migrate through beautiful Byron Bay.
Enjoy a Lunch at the Farm
Enjoy an amazing lunch experience at The Farm. The farm is filled to the brim with activities, food and adventure. If you've got some time on your hands, take a tour around the farm. With a bonus for being incredibly accommodating for dietary needs, even the picky eaters will find something to love. We love floral and feminine looks at The Farm and our styling tip is to play around with colours and prints with the Multi-Coloured Striped top and the Pleated Chiffon Skirt.
Visit Wategos
Escape the bustle of Byron Bay on Wategos Beach. This beautiful beach is located 2km east of the Byron Bay town centre. A peaceful, sheltered little beach that is ideal for families, a fantastic place to picnic, swim and play in the sand.
Dine at the Mez Club
For dinner and cocktails, one of our favourite spots is The Mez Club. The food takes you on a journey around the Mediterranean Sea, from the noisy 'souks' of Morocco to the richness in the south of France, the fresh produce of Italy and fresh seafood from Spain. For an elegant dinner look, explore a range of pieces from our silk collection. We love the sophisticated Wide Neck Top paired with the Bias Cut Skirt.
Lighthouse for Sunset
Who doesn't love a beautiful sunset? Finish off your day with a sunset at the Lighthouse! In Byron Bay, we are very lucky to have beautiful skies all year round. The iconic Cape Byron Lighthouse is the most obvious spot to enjoy the sunset over the mountains in the distance. Our styling tip: Choose a casual and comfortable outfit and bring a pullover. Discover our Short Sleeved V-Neck T-Shirt and our High Waisted Viscose Shorts. Style the look with our pink Basic V-Neck Pullover.
All featured outfits are available in our Byron Bay clothing store, Unplugged Byron Bay. Discover more of our women collections online now or have a browse in our beautiful Byron Bay retail store!