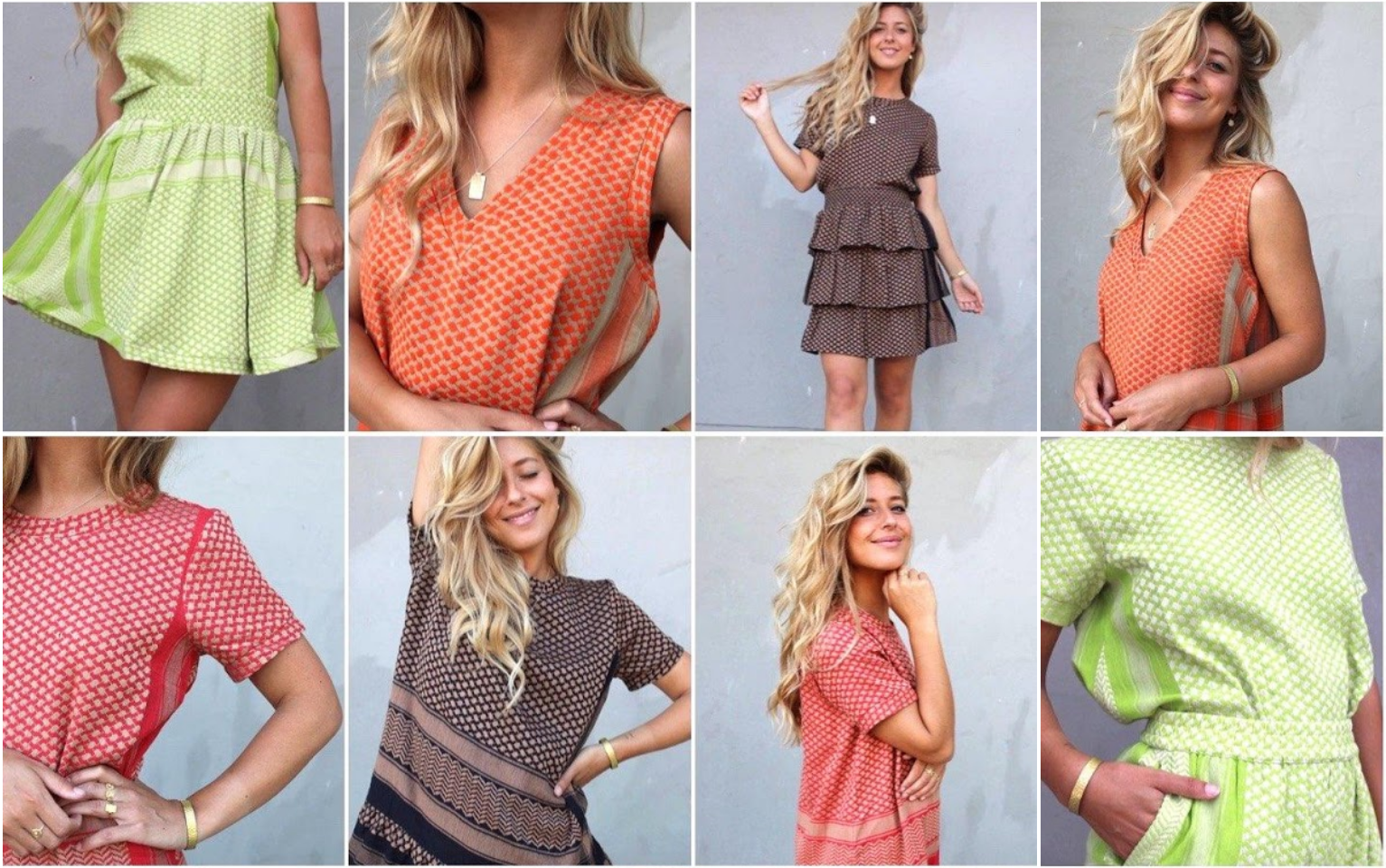 Styling Danish Brand Cecilie Copenhagen with Australian labels
There's no question that this Danish brand has garnered the attention of Australian fashionistas with its playful influence and classic silhouettes. We have fallen in love with the bold geometric print and patterns in classic and loose fits. CECILIE is for women who are confident and are not afraid of something new. The brand offers us timeless design that is effortlessly cool and suitable for all shapes and ages.
Meet the Designer!
Cecilie Jorgensen is a spontaneous and confident designer that became an "overnight sensation". Fun fact: Cecilie's design was  born from a clothing crisis before a night out. She spontaneously put something together and didn't design with business in mind.
It all started in Denmark when fashion student Cecilie found a couple of her mother's scarves one night and decided to customise them into a tunic. After countless compliments that night, Cecilie decided to experiment with other garments inspired by the scarf. Her designs became the well-known pieces we see today and just like that, CECILIE copenhagen was established.
Styling Cecilie Copenhagen with Australian brands
The latest collection is perfect for the summer season and features bold and bright colours in classic styles, introducing Camel/Red, Black/Oak, Orange and Lime/Cream.
Australia, and Byron Bay in particular, have become something of a hub for fashion and we love seeing both local and international brands growing and evolving. As we support local brands, we love mixing this Scandinavian brand with our local Australian labels, such as the Byron Bay based F & H Jewellery, Childe and Fallenbrokenstreet.
Stand out in a bright colour!
The Shirt O Short Sleeves and Shorts in Lime/Cream goes perfectly with the Cream toned Ratatat hat and the Drummer shades. For a sporty yet stylish look, add on thick hoops and our Thea Sneakers in White & Metallic Silver.
Go for the classic chic look!
Nothing speaks "chic" more than matching our Shirt O & the stylish Becky skirt with huge Drummer sunnies and Knight heals. This look is complete with the Byron Bay made Ratatat hat in a Chocolate brown and the elegant Lemmy Cross earrings.
When in doubt - go orange!
We love the bright and colourful pieces from this collection! Mixing casual with chic creates a wonderful balance and comfort to any outfit. We styled the Orange 2 V No Sleeves dress with the Thea sneakers and neutral grey Ratatat hat. For some elegance and drama, we added the Wham Gemstone necklace and the Drummer Vino Rosa sunnies from local eyewear brand Childe Eyewear.
Red is the new Black!
Last but not least, one of our favourite sets: The Shirt O Long Sleeves and Shorts in Camel/Red! A flattering colour that we love to style with black, silver and gold. We paired the set with the CO John Glitter sneakers and the Ratatat in black. Then we finished the look with Eva Gemstone chain studs from Byron Bay based F+H Jewellery and Gloss Black Drummer sunnies.
Discover more
Want to style your own looks? Explore the full CECILIE copenhagen collection here, and see why this gorgeous brand is so easy to fall in love with! To discover local brands, have a browse through our range from F & H Jewellery, Childe and Fallenbrokenstreet now.